Karcher WD5 vs Euroclean WD X2
Vacuum cleaners have made our cleaning work much more comfortable. But how do you choose the right heavy duty vacuum cleaner for you that can simultaneously clean heavy objects like broken glass, including wet floor, even floor spot by wet cleaning?
In this post, we will present to you all the details of the Best two cleaner vacuums of the present time so that you can choose the right vacuum cleaner for you.
Let's go through in detail a comparison review of Karcher WD5 vs Euroclean WD X2.

Similarities and Differences
Before we go into the details of the Karcher WD5 and the Euroclean WD X2, we would like to take a look at the similarities and differences between these two Heavy duty wet and dry vacuum cleaners, so we get an obvious idea and match it with our needs.
Due to some high wattage, it is possible to have more deep clean in Euroclean WD X2 than Karcher WD5. Although this difference is not very significant, there will not be much difference in deep cleaning suction power.
But one crucial thing to keep in mind is that Dirt storage capacity is higher at Euroclean WD X2 to Karcher WD5. For that Karcher, users will get rid of the embarrassment of emptying the garbage tank again and again.
You may also like: Best Cold Press Juicer in India
Karcher WD5 vs Euroclean WD X2
Built Quality & Design
Before buying any product, we nearly check its design, materials, quality, and durability. Their design comes first when discussing the Karcher WD5 and the Euroclean WD X2. These two Industrial dry wet vacuum cleaners are made in a modern design.
A notable aspect of the Karcher WD5's design is that it uses stainless steel containers that are quite strong and rust-resistant. Apart from its containers, the rest is made of industrial-grade high-quality plastic. The Karcher WD5 Vacuum Cleaner is marketed in an advanced design combined with black and yellow colors, which is very interesting to look at.
The Euroclean WD X2 dry wet vacuum cleaner, on the other hand, is designed in a combination of black and orange colors. Also, the adjustable knobs of this vacuum cleaner are very eye-catching, which attracts the users well. Besides, this vacuum cleaner has LED indicators that work for cleaning mood detection. This vacuum cleaner is made with industrial grade high-quality plastic, which is very strong.
Features of Karcher WD5 and Euroclean WD X2
Karcher is a reputed company that has been manufacturing and marketing cleaning equipment for a long time. Karcher WD5 is a vacuum cleaner from the Karcher brand, gaining user satisfaction for a long time. On the other hand, Euroclean WD X2 is a vacuum cleaner from the brand called Eureka Forbes.
We've talked to a lot of dry and wet vacuum cleaner users. Some of them are using Karcher WD5, and some are using Euroclean WD X2. In their opinion, they can do their cleaning activities very smoothly, and the performance of these models is better than all the other vacuum cleaners they have used. Let's Let's talk about the features and benefits of Karcher WD5 and Euroclean WD X2 together in details:
Container Size: We often notice that during the use of vacuum cleaners, the dirt accumulation container fills up very quickly. Thus, we have to clean the container repeatedly, which often seems to be quite a problem. Moreover, we often find a heavy-duty vacuum cleaner to clean the environment around us, which will do our cleaning job very easily and quickly. There is no need to empty the container repeatedly.
This container is made of stainless steel, so it is strong and rust-resistant at the same time. This means that if wet dirt or water accumulates in the container during wet cleaning, there is no possibility of rusting later. Besides, when cleaning the vacuum cleaner, we can also wash and clean the stainless steel container. The Euroclean vacuum cleaner WD X2 also has a pretty big waste container of 8 liter capacity. It's made from high-quality industry-grade plastic, which is strong as well as long-lasting. Its container is also washable for every reason required. Whoever looks for a modern and robust looking vacuum cleaner with a high capacity of cleaning power can choose any of the vacuum cleaners from these two models.
Blower Functionality: Often, we need blowers to remove dirty garbage from households, offices, or other places. Both Karcher WD5 and Euroclean WD X2 have an impeccable feature that it can be used as a vacuum cleaner and blower if desired. This blower can supply powerful air that can easily clean plastic pieces, various wrappers, and tree leaves from your yard. A more exciting feature is, you can control the power of airflow from the blower in both these vacuum cleaners by rotating the adjustable nob.
Filter Removal Technology: The vacuum cleaner in the Karcher WD5 model features Karcher patented air filter remover technology. As a result, the air filter can be quickly revised in this model. There is no need to open the vacuum cleaner altogether to remove the air filter. The air filter can be easily opened next to the vacuum cleaner and changed as required. Air filters are used in both dry and wet cleaning.
Easy Filter Cleaning: The Karcher WD5 wet and dry vacuum cleaner can be easily cleaned by opening the filter from the side with the push button. As a result, without opening the cleaner completely, it offers the opportunity to clean the filter entirely. Many industrial-level vacuum cleaners do not have this kind of feature. This vacuum cleaner can be used very quickly by anyone as it is a simple and easy way to clean the filter, and it does not require the help of an expert.
360 Degree Rotating Wheels: Karcher WD5 vacuum cleaner has Five 360 degree rotating wheels. These rotating wheels can move very quickly on any floor surface, including carpet, tiles & marble. Besides, there is no possibility of any kind of cloth or thread getting stuck in the wheel and the wheel getting jammed.
On the other hand, Euroclean WD X2 has four 360 degree rotating wheels, which are also capable of moving on surfaces like carpet, marble, and tiles. Euroclean WD X2 has less weight than Karcher WD5 so that four rotating wheels can perfectly support its weight.
Attached Accessories & Storage: When there are some necessary accessories with any electric equipment, it is often seen that there is a possibility of losing them while using them. Karcher WD5 vacuum cleaner comes with various accessories to thoroughly clean the corners of your home, office, or any other place. But the good news is that these accessories also have space on the vacuum cleaner's body, which is an impeccable aspect of this vacuum cleaner. As a result, the chances of losing these accessories are meager. Also, the accessories are in one place, so they are available at hand while using. The same features are also available in Euroclean WD X2.
But it offers more to the consumers. It comes with 13 different accessories, and everyone has a proven application of their own. You will get different types of floor nozzles as well as blower nozzles. Some suction and blower nozzles are made narrow to reach out to every corner of your house. Powerful motors and these accessories set make the Euroclean WD X2 a winner in its price range. Euroclean WD X2 has one more unique feature. It can wrap its long cable inside to prevent any accident. You want to press the dedicated button to wrap the cable.
Karcher WD5
Product Specification
Brand: Karcher
Colour: Yellow and Black
Voltage: 230 Volts
Wattage: 1100 Watts
Dimensions (LxWxH): 41.8 x 38.2 x 65.2 cm
Weight: 10.02 Kg
Capacity: 25 litres
| PROS | CONS |
| --- | --- |
| For wet cleaning, no need to swap filter. | Power cord might be short for larger homes. |
| No need to open a filter for cleaning. | |
| Adjustable suction power. | |
| Onboard storage for all accessories. | |
Euroclean WD X2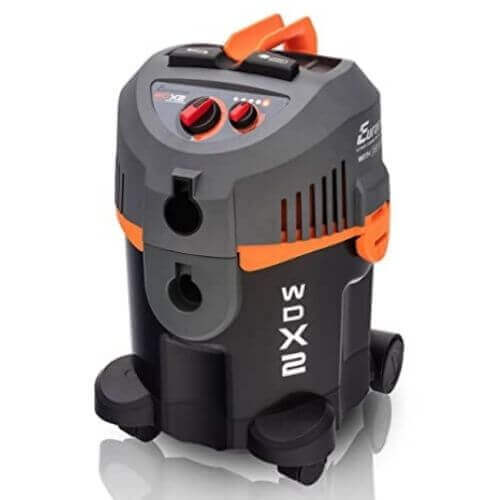 Product Specification
Brand: Eureka Forbes
Colour: Black & Orange
Model Name: Euroclean WD X2
Voltage: 220 Volts
Wattage: 1300 Watts
Dimensions (LxWxH): 35 x 33 x 49 cm
Item Weight: 6.7 Kg
Capacity: 8 Litres
| PROS | CONS |
| --- | --- |
| Extended cable and comes with built-in auto cord winder. | Quite Expensive. |
| Adjustable power mode for different suction mode. | |
| LED indicator for adjustable power mode. | |
| Powerful motor for deep cleaning. | |
keep in mind before buying
Both vacuum cleaners have a wet cleaning facility. It's possible to wipe your floor daily using this vacuum cleaner.
You can use both vacuum cleaners on any surface.
Both cleaners have a long, durable electric wire, and Euroclean WD X2 has a built-in auto-wire wrapping feature inside.
Euroclean WD X2 has a lesser tank capacity than Karcher WD5. You might think about which capacity you need to complete your task.
Conclusion
Both vacuum cleaners have extraordinary features and benefits. Karcher WD5 is more accurate for those who have a bigger house, office, or spaces to clean every day. Its 25 liter capacity container and easy filter cleaning feature will give you more flexibility.
Euroclean WD X2 offers more deeply clean. It's more accurate for those who want to clean every corner effectively of their house. Its long cable and auto cable winding capacity give it some extra user attention.