I recently had the opportunity to test out the Canon PIXMA G3020 NV All in One WiFi Inktank Colour Printer, and I wanted to share my experience with you. As someone who relies heavily on printing for both personal and office use, I was looking for a high-volume printer that could handle my needs. This printer definitely delivered on that front.
Pros and Cons
What We Liked
Excellent print quality: The Canon PIXMA G3020 NV produces sharp and vibrant prints, both in black and color. Whether I was printing documents or photos, the results were always impressive.
Easy to set up and use: The printer comes with clear instructions and the installation process was a breeze. Connecting to my Wi-Fi network was seamless, and the printer was ready to use in no time.
Cost-effective printing: Black and white printing costs Rs 0.13 per page, and color printing costs Rs 0.24 per page.
Versatile functions: The Canon PIXMA G3020 NV is not just a printer – it also functions as a scanner and copier. The scanner produced clear and accurate scans, and the copier function was easy to use.
Mobile connectivity: I was able to print directly from my smartphone or tablet using the Canon Print Service app. This was a convenient feature that allowed me to print on the go.
What Can Be Improved
Lack of Auto duplex printing: The printer does not have the ability to print double-sided. This may not be a major issue for everyone, but it would have been a nice feature to have.
Quick Verdict
The Canon PIXMA G3020 NV All in One Wi-Fi Ink Tank Colour Printer is a reliable and cost-effective option for high-volume printing needs. It offers excellent print quality, easy setup and use, and versatile functions.
While it lacks duplex printing, these drawbacks are overshadowed by its overall performance. If you're in need of a printer that can handle heavy printing tasks without breaking the bank, I highly recommend considering the Canon PIXMA G3020 NV.

If you require a printer with the capacity for extensive print volumes and economical cost per print, along with convenient availability of ink bottles, the Canon G3020 emerges as the optimal choice for your computer shop, office, or home setting.
In case if you need automatic double side print (Auto Duplex) feature check the list of best printer which has Auto Duplex Features.
Unboxing – What's Inside?
I recently purchased the Canon PIXMA G3020 NV All-in-One (Print, Scan, Copy) WiFi Inktank Colour Printer from Amazon. Being in need of a high volume office/home printer, I was attracted to its features and the positive reviews. The purchasing process was smooth, and the product arrived at my doorstep within a week, which was faster than expected.
Opening the box, I found the following items:
Printer
Power cord
User manual
Installation CD
USB cord
1 set of GI71 ink bottles (Cyan, Magenta, Yellow, Black)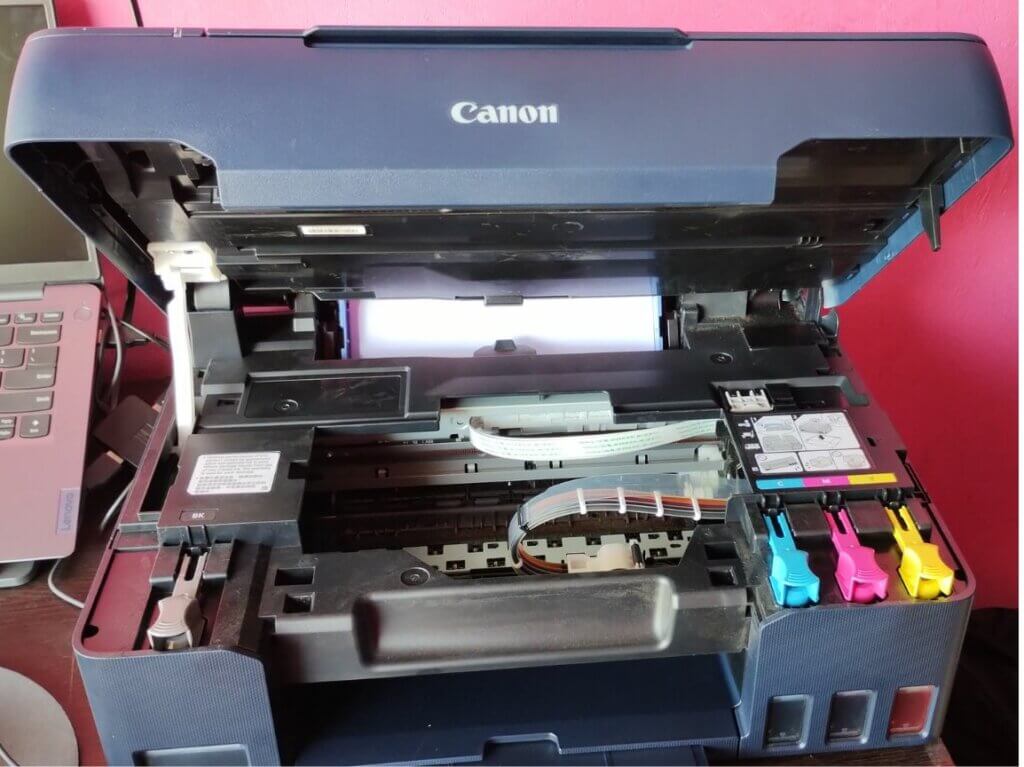 Specifications
Here are the key specifications of the Canon PIXMA G3020 NV:
Brand: Canon
Model: G3020 NV
Colour: Navy Blue
Function: All-in-one
Output: Colour
Connectivity: USB, Wi-Fi, Wi-Fi Direct and LAN
Printing Technology: Ink Tank
Print Resolution: 4800 x 1200 DPI
Max Print Speed (Black): 9.1
Max Print Speed (Colour): 5
Maximum Print Size: 216mm x 1200mm
Paper Size: A4, A5, A6, B5, LTR, Legal, Executive
Scan Resolution: 600 x 1200 DPI
LCD Display: Yes
Special Features: Borderless Printing
Operating System: Windows, Chrome OS, macOS
Warranty: One Year
Launch Date: 3 February 2021
Item Dimensions (LxWxH): 445 x 330 x 167 mm
Item Weight: 6.4 kg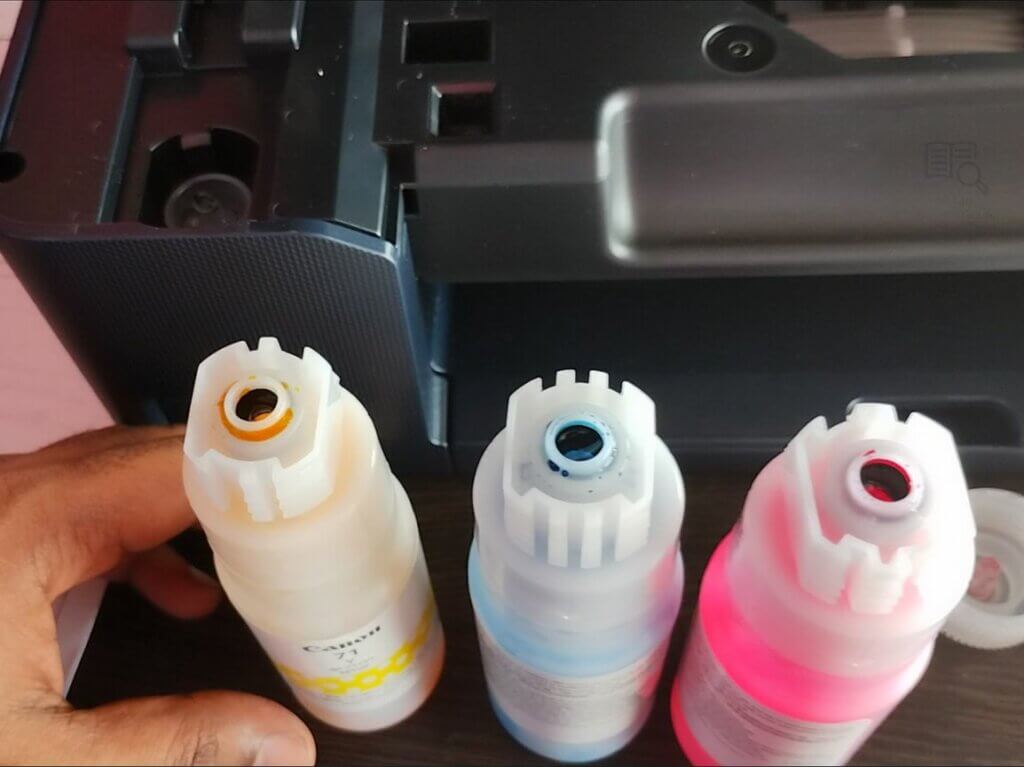 User Guide
The included user manual proved to be extremely helpful in setting up and using the Canon PIXMA G3020 NV. It provided clear instructions on how to connect the printer to my Wi-Fi network and install the necessary software. Additionally, it guided me through the process of refilling the ink tanks and utilizing the borderless printing feature.
If you need further details on how to make the most of this printer, you can access the user guide here.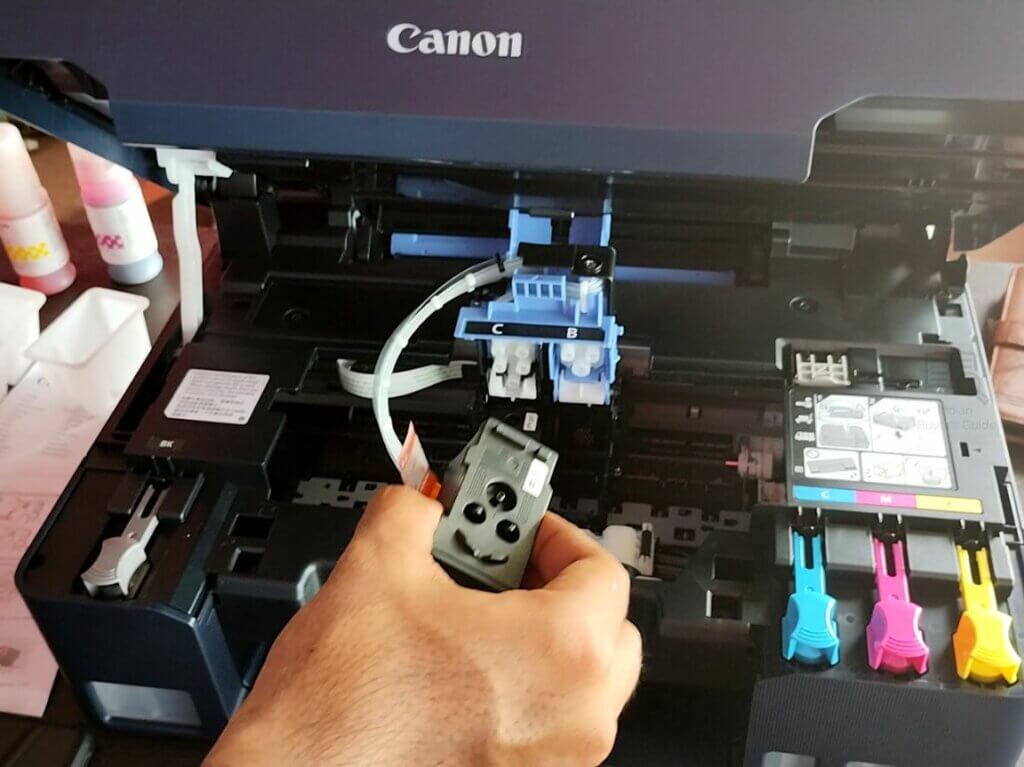 Features – What We Found
Ink Tank Technology
The Canon PIXMA G3020 NV printer utilizes the innovative Ink Tank technology. This allows for high-volume printing as it comes with a generous ink tank capacity.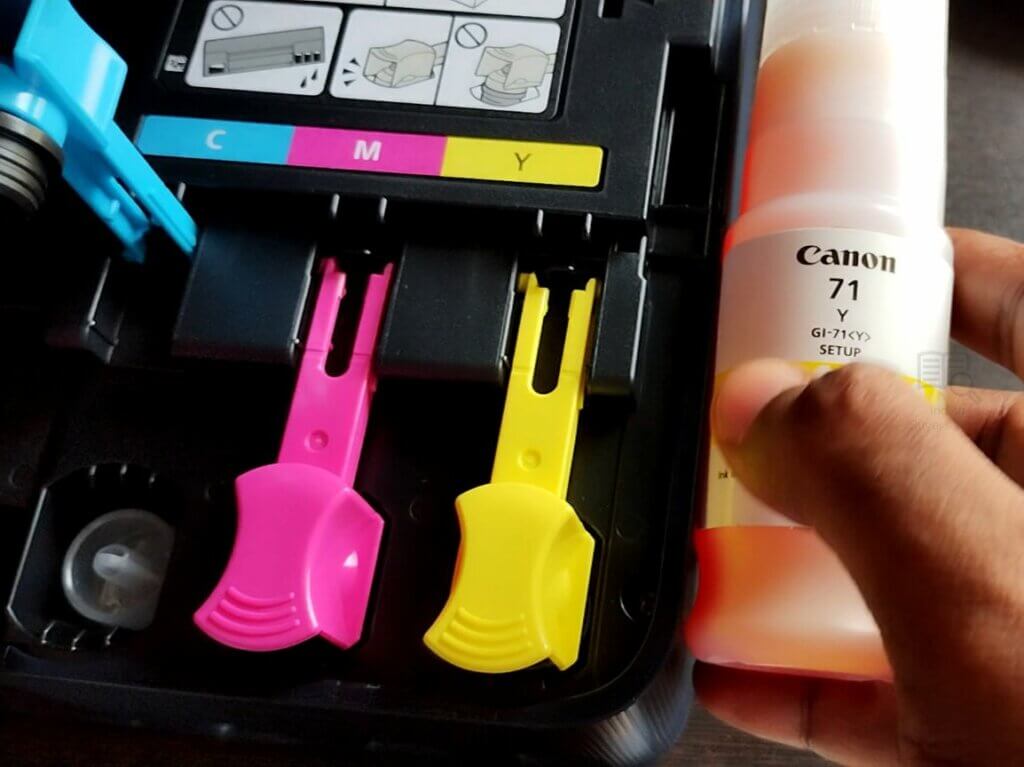 The printer is equipped with an efficient ink tank system that can hold a larger volume of ink, enabling you to print up to 6000 black prints and 7700 color prints. This ensures that you can handle your high-volume office or home printing needs without the constant worry of running out of ink.
Pro-tip: To maximize the ink usage and prolong the life of the printer, it is advisable to print regularly and avoid leaving the printer idle for extended periods.
Wireless Connectivity
With the Canon PIXMA G3020 NV, you can enjoy the convenience of wireless printing. The printer is equipped with built-in Wi-Fi connectivity, allowing you to print wirelessly from your computer, laptop, or mobile devices. This means you can easily print documents or photos from anywhere within your Wi-Fi network without the need for any physical connections.
For easy access to wireless printing, you can use the Canon Print Service, PIXMA Cloud Link, Easy Photo-Print Editor, or Canon PRINT Inkjet/SELPHY mobile apps. Simply connect your device to the printer's Wi-Fi network and start printing effortlessly.
Versatile Functions
The Canon PIXMA G3020 NV is an all-in-one printer that offers multiple functions to meet your printing needs. It not only prints but also functions as a scanner and copier. Whether you need to print important documents, scan invoices, or make copies of important paperwork, this printer has got you covered.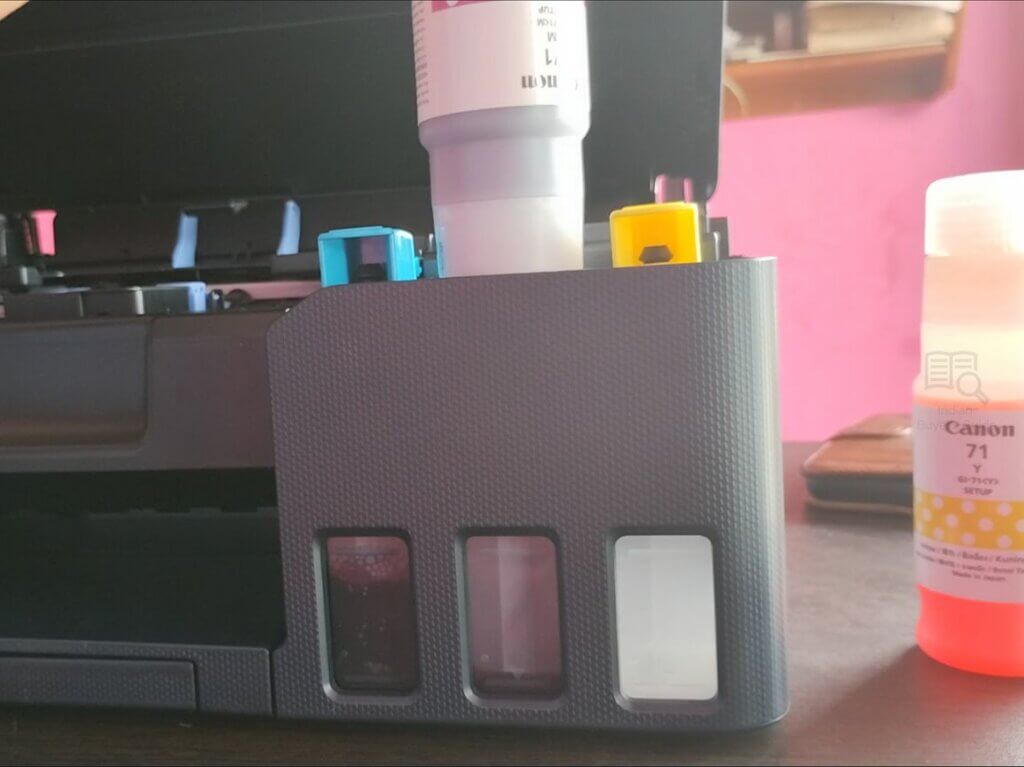 With a scanner resolution of 600 x 1200 dpi, you can expect sharp and clear scans. The copier function allows you to duplicate documents effortlessly. The versatility of this printer means you can streamline your office or home workflow by having multiple functions in a single device.
Cost-effective Printing
The Canon PIXMA G3020 NV is designed to be cost-effective, making it an ideal choice for high-volume printing. With a print cost of only Rs 0.13 for monochrome prints and Rs 0.24 for color prints, you can significantly reduce your printing expenses compared to traditional inkjet printers. The low cost per print ensures that you can handle your printing needs without breaking the bank.
Pro-tip: To further reduce printing costs, you can utilize the printer's Economy print mode, which allows you to save on ink consumption. This mode is suitable for printing drafts or documents that do not require high print quality.
High Print Resolution
The Canon PIXMA G3020 NV delivers exceptional print quality with its maximum print resolution of 4800×1200 dpi for both color and monochrome prints. This high resolution ensures sharp, detailed, and vibrant prints, whether you are printing text documents or colorful graphics.
The printer utilizes advanced printing technology to achieve accurate and lifelike colors, making it perfect for printing photographs or other visual materials.
Understanding the science behind this feature, the printer's high print resolution is achieved by using a combination of microscopic ink droplets and precise printhead technology. This allows for precise control over ink placement, resulting in sharp and detailed prints with smooth color gradations and minimal grain.
Our Review
Our Score: 4.8
Having used the Canon PIXMA G3020 NV All in One (Print, Scan, Copy) WiFi Inktank Colour Printer for a while now, I can confidently say that it has exceeded my expectations. The printer provides exceptional print quality for both black and white and color documents. The print speed is impressive, allowing me to complete printing tasks quickly and efficiently.
One of the standout features of this printer is its high-volume printing capability. With a capacity of 6000 prints for black and 7700 prints for color, it is perfect for offices or homes with heavy printing needs. The ink tank system is easy to refill, and the cost per print is affordable, making it a cost-effective choice in the long run.
The connectivity options such as WiFi and USB provide convenient printing from various devices. I particularly appreciate the mobile connectivity options, including Canon Print Service, PIXMA Cloud Link, Easy Photo-Print Editor, and Canon PRINT Inkjet/SELPHY. These features make it hassle-free to print directly from my mobile devices.
Overall, I highly recommend the Canon PIXMA G3020 NV All in One (Print, Scan, Copy) WiFi Inktank Colour Printer. It is a reliable and efficient printer that delivers excellent print quality and offers a range of convenient features. Whether you need it for your high-volume office or home printing needs, this printer will not disappoint.