Need a genuine Bosch Aquatak 125 vs Bosch Aquatak 130 review? This article is all about an in-depth comparative review of them. When it comes to home and industrial appliances, Bosch is a leading brand. Its Aquatak series of high-pressure washers are the best among them all.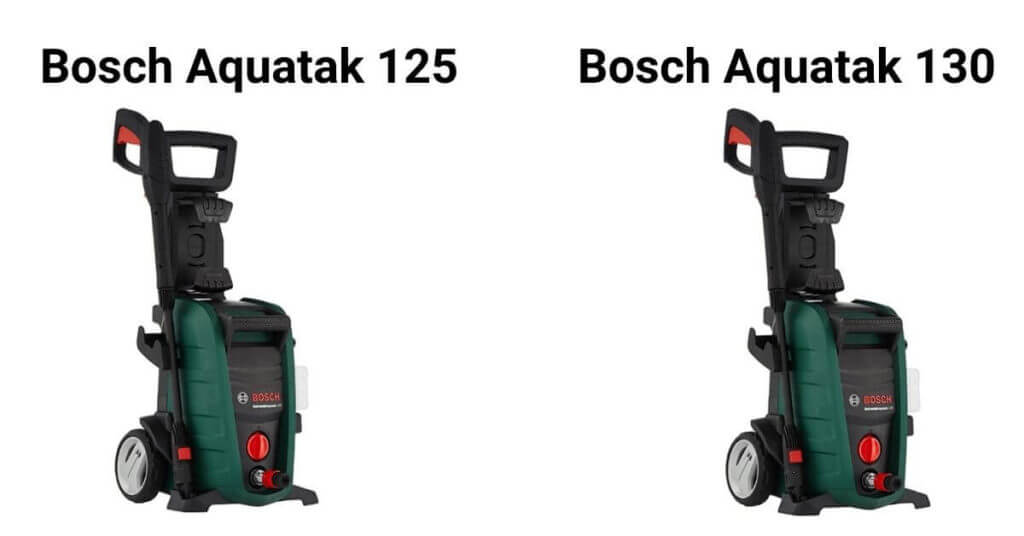 Bosch Aquatak High pressure washer helps you from getting rid of tough dirt. Reading this post means you made a wise choice already but needs clarity. No doubt that both of these high-pressure washers are highly recommended. It entirely depends on one's needs.
When you compare Bosch Aquatak 125 and Bosch Aquatak 130, you don't see much differences physically, but there are. Is it really worth buying Aquatak 125 or Aquatak 130?
Comparison Between Bosch Aquatak 125 and Bosch Aquatak 130
Build and Accessories
Bosch is well-known for dealing with good quality products. You can't find such high-quality and durable Bosch Aquataks anywhere else. These products are highly in demand because of their incredible build and structure. The ease of work is the primary feature for both of the products.
You can do your cleaning task easily within minutes because of their comfortable use. Let's find out the design and build of both products separately to get a quick assessment.
You may also like: Karcher WD5 vs Euroclean WD X2
Bosch Aquatak 125 vs 130
Bosch Aquatak 125
The product is fantastic with three cylinders and durable wheels for easy mobility. The folding telescopic handle is more comprehensive in featuring this high-quality product. Its design is upgraded with a new three-in-one nozzle having fan jet roto and pencil jet for quick action. Thus, a high-pressure foam is produced for random working and ease of use.
Moreover, the machine comes with a pressure washer, hose pipe, and two nozzles, with a pressure gun. The best part about this product is its activation without a water supply.
Bosch Aquatak 130
Bosch has introduced this product with a comprehensive design to meet the demands of users. The low-voltage built helps in decreasing the electricity bill and won't affect your pocket anymore. The design is almost similar to Bosch Aquatak 125 with a little bit different. The handle is telescopic and foldable with the addition of a new secondary lifting handle.
The nozzle is 3-in-one and comes with a fan jet roto, pencil jet, and a self-foaming feature. The product is complemented with accessories like a pressure washer, lance, 3-in-1 nozzle, high-pressure detergent nozzle, pressure hose, and water filter.
Verdict
If I have to choose between these two products then, I would prefer Bosch Aquatak 130. It's very durable and upgraded with a lot of newer accessories to facilitate the users. The design is almost similar but uses fewer watts for saving your time and money. Its detailed design preview will help you in understanding the best and high-quality features of this product.
Build and Design
Both products come with feasible accessories and features to accommodate the needs of users. There is no confusion in their built and design as both are technically similar and featured products with impressive functions. Well, let's have a look to have a better idea.
Bosch Aquatak 125
This product comes with a three-in-one nozzle, water pressure gun, and hose pipe for quick and comfortable use.
Bosch Aquatak 130
The multiple accessories make this product more incredible. It comes with a 3-in-1 nozzle, high-pressure gun, detergent nozzle, lance, high-pressure hose, and water filter.
Verdict:
The accessories, along with Bosch Aquatak 130, are more detailed as compared to the other one. The little detail makes a lot of difference, and it's upgraded with a new handle for easy portability. That's why the Bosch Aquatk is better than the Bosch Aquatak 125 inbuilt and designed.
Features
Pressure
Bosch Aquatak 125 as the name shows itself has a maximum pressure of 125 bar which is quite enough to rinse everything. The maintenance-free nozzles make sure to deliver maximum output at 125bar.
Bosch Aquatak 130 build as well as deliver output at 130 bars perfect for washing your dirt bikes, cars and trucks as well.
Verdict: if you need a high-pressure washer for heavy-duty jobs then bosch aquatak 130 is a suitable option.
Power consumption
Bosch Aquatak 125:Has, a motor of 1500 watts, means it consumes a maximum of 6 amperes which is quite enough for a high-pressure washer.
Bosch Aquatak 130:Took almost 7.2 amperes at it is of 1700 watts, the high pressure requires more power that's why it needs more power to uphold ad maintain it.
Verdict: If energy saving is your primary concern, then you must have to go for Bosch Aquatak 125. It consumes nearly 10% less energy than Bosch Aquatak 130.
Water consumption
Bosch Aquatak 125:Works at 125 bar pressure and consumes approximately 360l Ltr/h. If you are close to nature than you know the value of water
Bosch Aquatak 130:Consumes 380Ltr/h means you have to maintain a constant water supply of a minimum of 400Ltr/h.
Verdict: Aquatak 125 is a clear winner because it saved water and accomplished the desire tasks in minimum requirement.
Hose twister
Bosch Aquatak 125: Comes with high water pressure and also has 5m of hose length to provide the perfect ejection fan jet and pencil jet feature for producing the foam.
Bosch Aquatak 130: Provides the high-pressure water pressure with upgraded nozzles and makes the foam itself for washing purpose. Its hose length is 6m to provide ease of use.
Verdict: Bosch Aquatak 130 has a better hose twist with a suitable length. Its working capacity is more fantastic than Bosch Aquatak 125 for delivering fine quality work.
Portable
Both high-pressure washers are extremely portable due to high-quality wheels, but weight matters a lot.
Bosch Aquatak 125: possesses a gross weight of around 15 lbs. which makes it easy to carry and load and unload on your truck.
Bosch Aquatak 130: has a gross weight of 17 Lbs., a bigger motor and hose are the reasons for its extra weightage.
Verdict: Aquatak 125 is lightweight as compared to Bosch Aquatak 130, which makes it a little bit easier to carry as well.
Design
Both products are served with foldable design for easy portability, and the handle is telescopic for dragging purposes. The big wheels promote the comfortable to move, and the fan jet roto with pencil jet is added to empower the design.
Nozzles
The 3-in-1 nozzle is the extraordinary feature of this product. Nozzle ensures the perfect water pressure and allows you to deal with high-pressure water.
Folding handles
Folding handles are adjusted to move the machines by applying low power. Folding handles play an essential role in the portability and feasibility of these products.
Warranty
These machines come with an instruction manual, and a warranty is placed inside the manual for ultimate benefits and uses. The washer of machines has a 6-month warranty, and you can call customer support for better support.
Self-foaming
The products are capable of forming foam itself by generating high-water pressure. Thus, you don't need to apply any detergent to your vehicle. The products will do it themselves for your ease.
Verdict
Some features are similar because both models are made by the same company and have a bit different in price and other technical features. Thus, you can observe the feature chart for buying a suitable product for yourself.
Wattage
The Bosch Aquatak 125 operates on 1500 wattages while the Bosch Aquatak 130 uses 1700 wattages.
Water filter
The Bosch Aquatak 130 comes with a built-in water filter for flexible use, and the other one doesn't include a water filter. You have to buy it separately.
Water consumption
As Bosch Aquatak 130 is more advanced and unique in features, its water consumption is more than the previous one. You can use this product without worrying about a lot of water wastage because of the instilled water filter.
BoschAquatak 125
| PROS | CONS |
| --- | --- |
| 1. 3 in 1 nozzle to make the perfect high-pressure water shower for cleaning purpose. This will help you with washing without scrubbing your car because high-pressure built up will do this job for you. | No rechargeable option available. |
| 2. Waterproof interior to deliver a good quality of work and its cleaning is more troublesome due to its safe contact with water. | |
| 3. Hassle-free and soundless operations to serve you with the best. You can enjoy your work without any noise and wash your vehicle without carrying it to any carwash place. | |
BoschAquatak 130
| PROS | CONS |
| --- | --- |
| 1. A water filter is available to ensure the accurate amount of water usage and allows the accurate amount of water for washing purpose. | No warranty for hose. |
| 2. Quick SDS fittings for worry-free work and you can save your time by a quick start. | Variable speed option is not available. |
| 3. Auto on-off mode for quick and easy handling. When the machine gets heated, it turns off quickly, and there is no option for burning the motor. | |
Conclusion
Before coming to an end I must say that Bosch Aquatak 125, 130 have made life easy by their portability and quick action. The high-pressure water ensures the easy and perfect cleaning to let you live a worry-free life. There is no need to scrub your cars and make yourself in trouble.
These products would make your work easy with their impressive features. You don't need to spend on heavier machines if you have the facility to buy an affordable and perfect cleaner for yourself.
With the best features and maintained structure both products are ideal but, I would recommend the Bosch Aquatak 125 for home use and Bosch Aquatak 130 for commercial use.
Kumar, a mechanical engineer by trade, is very curious about the newest and most cutting-edge kitchen and home gadgets. He devotes his time to researching the greatest items and disseminating his findings via his in-depth product reviews and thorough purchase guides.