Food processors are electrical kitchen appliances used to chop, slice, dice, blend and puree food ingredients to make cooking much easier. It performs the same tasks as manual machines like knives for cutting, mixers for whisking, and blenders for mixing, but they do it more efficiently and faster.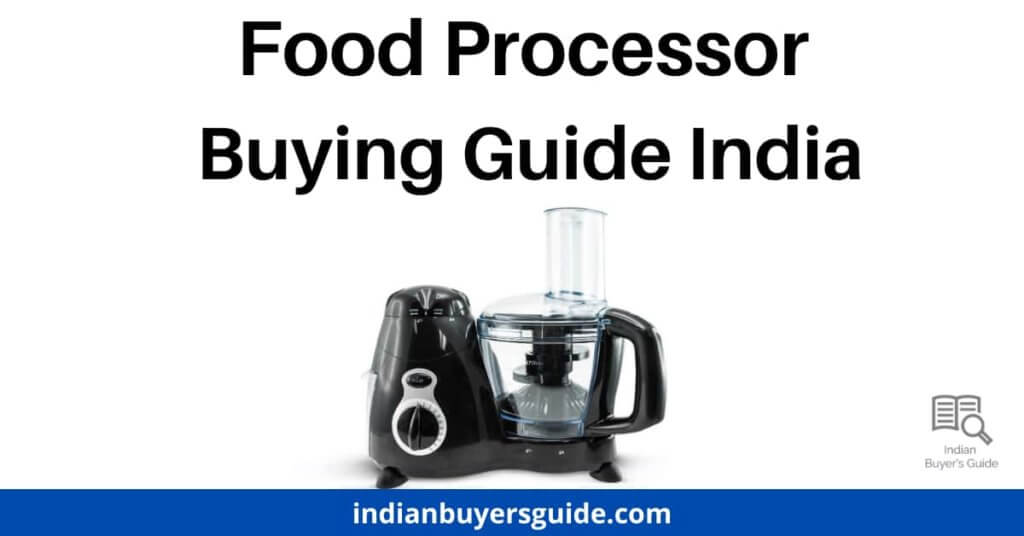 With the help of a food processor, anyone can create perfect dishes by themselves without depending on others or pre-processed foods from supermarkets.
The majority of them consist of an electric drive coupled with various interchangeable blades and discs, which help you shape your dish according to your preference.
The best part about using a food processor is that they offer multiple functions under one platform – slice, grate, grind, mix, knead the dough, and whisk. Below is a list of food processor buying guide which you can use as a guideline to make the perfect choice for your kitchen
1.What to look for when buying a food processor?
 When you're shopping for a food processor, there are several things you should keep in mind:
i)Size:Do research and find out what size of work bowl and blades come with your food processor and make sure it has at least 1/2 to 3/4 inch clearance on the sides. If not, do not buy it.
ii)Versatility: Look for multiple speeds (chopping, grinding, etc.), dough kneading options, variety of blades (grating, slicing, etc.). Also, check extra attachments such as a meat grinder or citrus juicer that can turn your machine into a multi-purpose kitchen appliance that takes care of most if not all your prepping needs.
iii)Power: A more powerful processor translates to better performance. A 600-watt motor is good enough for most tasks; anything more than that would be overkill unless you plan to use your food processor to power an Industrial Chipper Shredder.
iv)Ease of Use: Make sure controls are laid out so that it is easy to switch between speeds/functions with minimal effort. Also, make sure the opening lid has the stay-open feature.
v)Durability: Those are the main things you need to look for when buying a food processor.
If you are looking for Best Food Processor India under 5000 – click here
2.What are the pros and cons of using a food processor? 
Pros:
They help save time since they allow you to process a large number of tasks simultaneously, thus eliminating the need for manually performing each task one after another.
You can also save on electricity costs as most of them have been designed with energy-efficient components that consume very little power during operation.
Food processors come equipped with different attachments, making it easy to carry out multiple tasks at once without worrying about changing any equipment or tools now and then.
They also give your dish a creative touch with their unique chopping blade attached at the bottom, which lets you give the dish a professional and creative touch.
Also, depending on the size of the work bowl, you have plenty of space to prepare large quantities at once, which is perfect if you're cooking for an entire family. 
Cons:
They are not very efficient for certain tasks, so depending on what you use your food processor for, you may still need a blender to liquefy the contents, e.g., making smoothies or soups/purees or a hand mixer to beat egg whites, etc.
Also, they take up quite a bit of storage space because of their size and cord length (unless there is one with a cordless/removable option).
3.What are the applications of a food processor?
Food processors come in all sizes and shapes; therefore, the range of functions they can perform vary from model to model but broadly speaking, you can categorize them into 3 types according to the tasks they perform:
i)Food processors: This is a very general category and usually has a larger work bowl, multiple speeds, and comes with a variety of blades for cutting/chopping/mixing/grinding, etc. Depending on the model, it may also have dough kneading or ice-crushing capabilities.
ii)Kitchen Appliances: Food processors in this category are more integrated appliances with extra attachments such as a meat grinder, citrus juicer, food mill, etc. These attachments allow those machines to take care of multiple tasks involving food processing and, e.g., grinding meat or even making pasta.
iii)Specialist Food Processors: These are usually higher-end, more powerful models with a very specific function, e.g., Morphy Richards Icon Superb can perform the tasks of a food processor and a blender thanks to its interchangeable cover/blade design.
4.Common mistakes people make when choosing a food processor?
The biggest mistake is going for the most popular brand name you find instead of looking at all your options carefully. This usually happens when someone has an appliance before and wants to stick with the same brand because they trust its quality or price range, but it is not always necessary or even worth it in this case.
There are so many entry-level food processors available in India that often, they offer better value for money than a famous brand, even if it is a much newer model.
Now let's look at what kind of options are available in India that fit into these parameters. Keep in mind that due to price constraints and lack of availability of higher-end models, you will find that this article only covers the more popular entry-level models.
Taking everything into consideration, here are our recommendations for the best entry-level food processors in India right now
Best Food Processor in India 2021
1.Usha FP 3810 Food Processor
Whether you are making a quick dip, slicing veggies, or kneading dough, Usha FP 3810 Food Processor is the perfect appliance for your kitchen. This food processor includes three different types of slicers for your convenience to slice your ingredients perfectly. These slicers help in julienne cutting, grate cutting, and coarse grate cutting. This appliance has a 1000-watt powerful motor, which helps chop any type of vegetables, fruits, and even cheese perfectly.
Features
Sale
It is easy to operate with the help of simple switches on the machine.
Its main body is stainless steel, which makes it look much more premium than its competitors.
It also has a 1000 watt copper motor which can be used to chop food items very well.
The main advantage of this item is that it has three types of slicers available in it, and it helps in grating, chopping, and slicing the food products.
2.Morphy Richards Icon Superb Food Processor
The Icon Food Processor is designed to cut down your food prep time. All the machines are fast and powerful, with a processing speed of 10,000 rpm. The wide chute means less preparation for you, just pop in whole fruit or vegetables. This machine comes complete with three processing discs for slicing, grating, and whisking.
Sale
Morphy Richards Icon Superb 1000 Watts Food Processor (Glazing Copper)
11 different kinds of attachments. Child lock feature for added safety;16-in-1 function ; 6 Stainless Steel Blades - the different types of blades allow you to perform multiple functions ; Power Requirement: AC 23V, 5Hz; 7 unique jars, multiple function;6...
3.2 L food processing bowl with operating volume of 2 L, 2.3 L liquidizing jar with operating volume of 1.5 L, 1. L grinding jar with operating volume of .7 L, .5 L chutney jar with operating volume of .3 L;Processing blades - Kneading blade, chopping...
Attachment and Tools - Spindle, Spindle extension, Kneading blade holder, Unique 2-in-1 pusher, bowl lid, citrus juicer, centrifugal juicer and lid, processing bowl, liquidising jar, grinding jar, chutney jar, spatula;Warranty: 2 years on product
The glide touch control enables you to slice with ease using the machine's two action buttons. There is a finger guard fitted on top of the super wide-mouth feed chute to protect your fingers during use for safety. The machine features electronic overload protection for ultimate peace of mind.
3.Usha FP 3811 Food Processor
Usha is a well-known food processor brand in India. Usha produces high-quality products at an affordable price. This model, FP 3811 Food Processor, has the following features
Sale
Usha FP 3811 Food Processor 1000 Watts Copper Motor with 13 Accessories(Premium SS Finish), Black and Steel
Many Tasks One Master- 12 Different Applications. 3 Impact Resistant Jars and 1 Food Processing Bowl;100% Copper Motor
No Nicks and cuts, Dedicated Juicer Assembly;Technical Specification: Wattage - 1000 W ; Voltage - 230 V ; Frequency - 50 Hz; Both Citrus and Centrifugal Juicing Attachments. Overload protection for motor safety;2 Speed Setting+Pulse
Premium Black SS Finish. Safety lock for safe operation;Jar Quantities: Capacity of Bowl -3.5 L Capacity of Blender Jar -1.8 L Capacity of Multipurpose Jar -1.2 L Capacity of Chutney Jar -0.5 L
Copper Motor with 13 Accessories(Premium SS Finish), Black and Steel
It has a four-step locking system that ensures safety while using the appliance
It consists of a juicer jar, main bowl with lid, and a whisk.
The cord storage facility helps you to save your kitchen space.
Comes with a warranty period of 1 year.
4.Inalsa Food Processor Easy Prep (800 Watt)
Make nutritious and healthy meals with ease using the Inalsa Food Processor Easy Prep. This appliance has been designed to reduce your chopping veggies, making pastes, grinding batter, etc. It is a lightweight food processor that can be moved easily from one place to another with its user-friendly handle. The stainless steel blades of this product will slice, dice, and chop any ingredient in the pulse mode.
You can use this food processor with different gadgets like the dough hook, egg beater and cake maker, etc. Inalsa food processor also consists of an attachable transparent mixing bowl that can be used for kneading dough or whisking egg whites. The easy-to-grip handle helps you when you are pouring out liquids or batters.
Sale
Inalsa Food Processor Easy Prep-800 Watts with Processing Bowl & 7 Accessories (Black)
Amazing space and time saver - now you do not need to buy multiple appliances to perform everyday tasks. This multi-function 800W food processor does it all be it chopping, kneading and shredding. Spend less time in the kitchen. Power Requirement : AC 240...
Cooks like a master chef- Equipped with Overload Protector and Child Lock Safety Function, this appliance is suitable for chopping, shredding, slicing and emulsifying foodsIt can beat cake batter and egg whites, knead bread-dough and grind meat
Savour the flavor- with precise slicing and dicing, the perfection of each piece allows for even cooking, even flavors and a perfectly textured plate of produceThe end result - a dish that tastes as good as it looks
This product has a motor power of 800 Watts that helps you process food items easily and quickly. It is made up of ABS plastic and stainless steel that makes it highly durable and rust-resistant. There are transparent viewing windows in the bowl, which will help you check the food processing activity.
Kumar, a mechanical engineer by trade, is very curious about the newest and most cutting-edge kitchen and home gadgets. He devotes his time to researching the greatest items and disseminating his findings via his in-depth product reviews and thorough purchase guides.
Last update on 2023-02-08 / Images from Amazon Product Advertising API