5 Best Roti Tawa in India
Roti is a basic need for all Indians and subcontinent people. It is good for your health and is not expensive. But to make roti, you need to have a fine quality Tawa that provides you with roti and a perfect round and delicious roti in little time.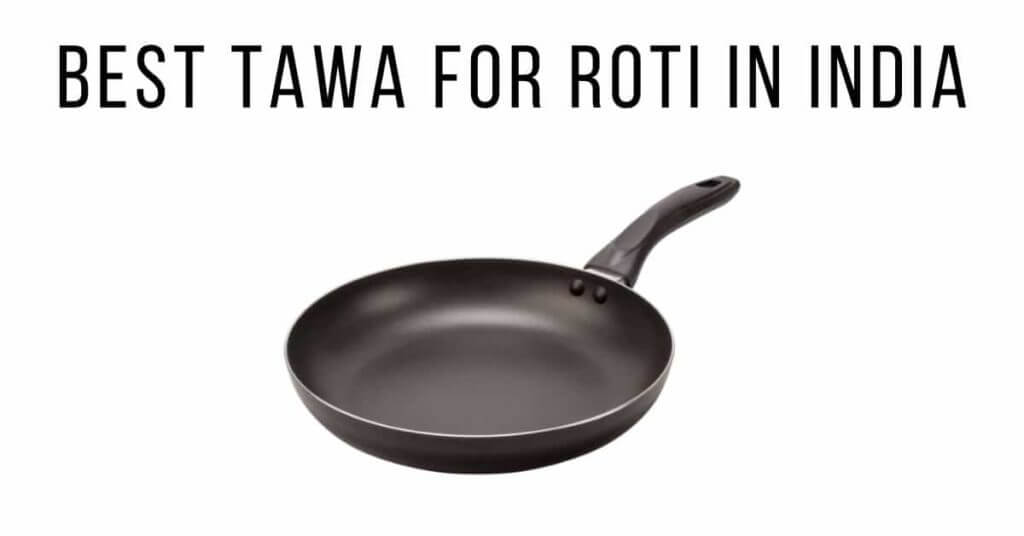 Do you know which is the best Tawa in India that helps you to make roti easily with less time? The easiest to use Tawa with high-quality are listed below.
1.Vinod Legacy Pre-Seasoned Cast Iron Roti Tawa
A good quality Tawa manufactured by Vinod is made up of cast iron. Its dimensions are 43 x 26 x 2 cm, and the diameter is 2 Inches. It heats evenly and has extraordinary heat retention, and enriches food with iron. It has a long handle and opposite helper handle for a steady, secure hold and a hole at the end of the long handle for hanging storage.
Vinod Legacy Cast iron cookware can be used for many generations with proper care and usage. To keep it rustproof, rust-free, please apply oil after every use; just clean with soft tissue paper and preserve it for next-day usage. Don't wash with soap, and just keep it aside. It is Heavier than non-stick cookware.
You may also like – Best Food Processor in India under 5000
| THINGS WE LIKE | THINGS WE DON'T LIKE |
| --- | --- |
| 17 cm long handle. | Product may get damage while delivering. |
| pre seasoned cast iron cookware. | |
| Lifetime Warranty. | |
2.Prestige Hard Anodised Plus Cookware Induction Base Roti Tawa
Prestige Hard Anodised Plus Cookware Induction dimensions are 16.14 x 9.45 x 2.76(LxWxH)inches and have a wide base with Perma cool handles. Introduction base, it is black in color and easy to wash. Its material is Hard-Anodised Aluminum with a protected cover lid to avoid any bad thing to join with roti.
The wide base of this Tawa has a versatile function of cooking the food evenly, early, and deliciously. The Perma handles ensure good handling and decreases the risk of fall. Moreover, it's quick in heating, easy to wash and reuse. Prestige is one of the best companies in India, which ensures you with good quality products.
| THINGS WE LIKE | THINGS WE DON'T LIKE |
| --- | --- |
| Warranty – 2 years | Nil. |
| Cool Handle for comfortable grip. | |
3.Hawkins Futura Hard Anodised Tawa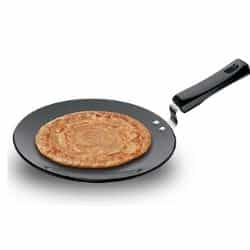 Hawkins Futura Hard Anodised, a good quality Tawa, was manufactured by Hawkins and introduced in India. It is made up of Material Plastic, Aluminum, and Anodized.
Each pot or pan is made from a heavy gauge with pure aluminum 3.25 mm to 6.35 mm thick for even heat dispersion and steady heat retention.
The best thing is it's not spoilt by heat. It's Gas Stove Compatible And Cooks some foods faster and crisper. Metal ladles can be used. It is Non-toxic, non-staining, and keeps looking new for years. It comes in Color Black, Material: Hard-Anodized Aluminum and Weight is 1.56 Kg.
| THINGS WE LIKE | THINGS WE DON'T LIKE |
| --- | --- |
| Easy to clean and maintain. | Take long time to cooking temperature. |
| Scratch resistant. | It is not compatible with induction cooktops. |
4.IBELL 3 Layer Durable Aluminium Non-Stick (Dosa/Roti/Chapati/Pathiri Big Tawa)
IBELL 3 Layer Durable Aluminium is a big Tawa for Dosa, Chapati, Roti Pathiri. It has a 3 Layer durable non-stick interior, a high glossy color exterior, and a new Concave design for quick heating. It has a high-grade non-stick coating and has uniform heat for fast cooking. It has a stylish non-stick surface and a high-quality cooking base.
It is the best Tawa for roti and dosa and has heat resistant bakelite handles. It comes up with 6 Months Warranty + 6 months additional warranty on free registration.
| THINGS WE LIKE | THINGS WE DON'T LIKE |
| --- | --- |
| High grade non stick cooking. | – |
| Heat resistant bakelite handle. | |
5.Amicus Kitchen Premium Iron Tawa for Roti
Amicus Kitchen Premium Iron Tawa is the best-quality Tawa manufactured by Amicus. It is made up of material iron and has a diameter of25 centimeters. The Item Dimensions are 46 x 25 x 8 centimeters. Its model name is concave. Use LEMON and Baking SODA to clean Tawa and return back to normal. It comes in the color black.
The Amicus Tawa is a concave surface, and one can use cast Iron Tawa pans on gas stove electric cooktops.ThisTawa heats up quickly and uniformly. It is easy to clean and has an elegant design. It has a Sturdy Iron Metal Handle with Wooden Grip.
It makes cooking better and easier, not just this, but it looks delicious; you can use it for Roti, Chapati, Paratha, Dosa, Bhakari, Phulka, Egg Omelette, Paneer Tikki, welsh griddle cakes, Roasting, Sauteing, Grilling.
| THINGS WE LIKE | THINGS WE DON'T LIKE |
| --- | --- |
| Safe to wash in a dishwasher. | It does not have a non-stick coating. |
| Multipurpose and has compatible gas stove electric cooktops. | |
| Wooden grip for comfortable handle. | |
Conclusion
These are the few best quality premium looks Tawa for Rotis and Chapatis; they can help you make the fluffy and ideal Rotis that everyone loves to eat. These are the best quality Tawas one can find in India with high quality and easy to use and clean purpose which saves time.
These best Tawas for making Rotis should ideally reach all of your requirements and needs. It helps you in the kitchen in preparing good food with its non-stick nature, which has a healthy effect on you, and good induction and gas compatibility.